Tooth loss is a highly prevalent dental health concern.
Good thing it can be easily addressed using Dental Bridges.
What are Dental Bridges?
In replacing a single tooth or multiple teeth, dental bridges may be recommended. These fixed restorative solutions requires that there are healthy teeth at both ends of the gap in your smile. The healthy teeth will serve as the anchors in which the dental crowns will be placed. In other cases, dental implants might be necessary to serve as a means of fixing the dental bridge.
Addressing Tooth Loss
If not given proper attention, tooth loss can lead to a whole lot of problems such as difficulty in chewing, speech impediments, lower self-confidence, and even facial deformity as a result of the shifting of your teeth and the loss of bone density in your jaw. In order to prevent these serious consequences, it is important to consult your trusted dentist and have a tooth replacement option immediately.
How can Dental Bridges help?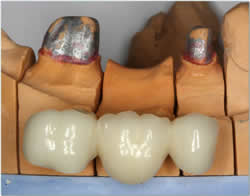 Dental Bridges can:
Restore your complete and perfect smile

Bring back the normal strength of your bite

Distribute the force used in chewing

Allow you to speak properly

Prevent teeth from shifting out of position
Top-Calibre Work on Dental Bridges in Geelong
Before the consequences arise, get rid of that gap in your smile by getting a high-quality Dental Bridge done by your trusted Geelong dentist here at All Smiles Dental. We can provide you with a number of dental procedures under Restorative Dentistry that are all aimed at bringing back the optimal beauty and function of your smile. Call us today on (03) 5229 5856 or simply book an appointment online.