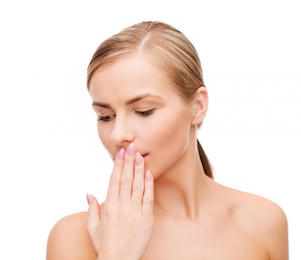 Telling someone they have bad breath makes a situation a bit awkward in the snap of a finger, that is, if you are brave enough to tell that person. Bad breath is considered an embarrassing oral health condition. Unlike cavities or tooth loss, bad breath can grab one's attention the minute you open your mouth to speak.
However, this is not something you should be embarrassed to tell your dental professional. The earlier you know what causes your persistent mouth odour, the better. Your dentist will be able to recognise the culprit and recommend the best treatment plan for your case. Here are some tips for bad breath control.
Five Tips for Bad Breath Control
Floss daily – most people are used to brushing their teeth every day, others even brush three times a day just to make sure their teeth stay clean and their breath smelling good. However, some forget the importance of flossing. Flossing removes food particles stuck in between the teeth, areas where your toothbrush often misses or just can't reach. If the food debris stays on your teeth, the bacteria will feed on it and cause bad breath.
Clean your tongue – you can use a tongue scraper or toothbrush to clean your tongue. A tongue scraper removes residue that accumulates between the taste buds and folds in your tongue. If you don't have this tool, you can simply brush away the residue with your toothbrush.
Eat carrots, celery or apples – eating these types of foods effectively eliminates bad breath odour. Fresh fruits and vegetables promote increased saliva flow to wash away bacteria from your mouth that can cause bad breath. Moreover, eating these healthy foods help reduce halitosis caused by hunger or fasting.
Drink more water – if you are thirsty, grab a full glass of water instead of sweet, fizzy drinks. Water is healthy both for your oral health and general wellbeing. Drinking water helps keep unpleasant odours under control as it washes away food particles and bad oral bacteria, two of the most common causes of bad breath.
Replace your toothbrush – clean oral hygiene tools play a significant role in having healthy, fresh breath. According to ADA, toothbrushes should be replaced about every 3 to 4 months. Best sign that you need a new one: if it has become frayed, then it's time to buy a new toothbrush.
Fresher Breath, Better Oral Health at All Smiles Dental
Having bad breath doesn't necessarily mean that you have poor oral hygiene. Other causes may involve oral health conditions such as gum disease and dry mouth, or serious illnesses like diabetes, lung infections, kidney or liver failure and gastro-internal issues. As the saying goes, your mouth is the window to your body; thus if you notice a lingering odour in your mouth, better visit your Geelong dentist for a comprehensive examination.
The key to clean, fresh breath is impeccable oral care at home and professional intervention with your dental team here at All Smiles Dental. Bad breath can be a serious oral condition if left untreated. With our effective bad breath treatment and commitment to your oral care routine, you can keep your breath pleasant and your oral health in excellent condition.
For a healthier and beautiful smile today, Call us on (03) 5229 5856 or book your appointment online.