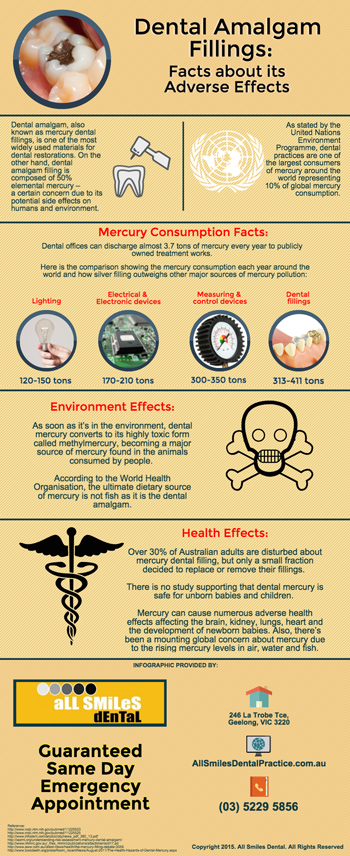 Dental amalgam is used to fill cavities and restore the tooth from decay. Due to its colour, it is also commonly called as silver fillings. However, this is not the single reason the substance has been named "silver", as this is mainly because of the material that the filling is mostly made of. A lot of patients are unaware that silver fillings have 50% elemental mercury. Given that many dental practices use dental amalgam then and now, mercury in tooth filling embodies 10% of global mercury consumption.
Many countries and organisations have shared their thoughts about the side effects of mercury tooth fillings and put efforts to phase out the use of mercury in fillings. Also, many studies have shown higher levels of mercury in human tissues with dental amalgam compared to those individuals who are not exposed. The mercury is easily evaporated from the person's mouth into the body. It can affect many systems in a body such as neurological, reproductive and oral health. Moreover, mercury fillings can also highly affect the ecosystem. Though it occurs naturally in our surrounding, mercury levels in the environment can be increased if consumers throw away the toxic substance in land and waterways incorrectly.
If you have some concerns regarding the use of dental amalgam, visit your dental partners in Geelong here at All Smiles Dental. We have a wide range of Restorative treatments to offer, and we can find the suitable procedure that suits your needs and wants. If you are not comfortable with silver fillings, All Smiles Dental can suggest you with White Composite Fillings, which matches the colour of your tooth and restores it without anyone noticing the treatment. Our expert dental team can help you make better decisions when its about the safety and health of your dental and oral wellbeing.
Claim your Guaranteed Same Day Emergency Appointment online or call us on (03) 5229 5856.