Do you get restless when it comes to visiting your dentist?
That might be due to dental fear.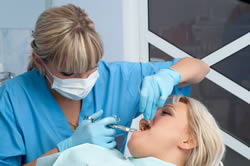 Dental fear is one of the major reasons why people would rather choose not to visit the dental clinic. Instead of getting the dental and oral care that they need, they shy away because of fear and anxiety.
As a consequence of not getting the proper treatment, their well -being continuously depreciates. More and more problems arise. People who are too scared to visit the dentist are more prone to having severe dental and oral health concerns.
Good thing is, we at All Smiles Dental have a solution for your dental fear – Dental Sedation.
What is Dental Sedation?
Your dentist in Geelong is well-equipped in using different kinds of sedatives so as to ensure that you are completely relaxed and comfortable during the dental procedure. These medications are not meant to put you to sleep though. Using dental sedation, you are just maintained in a calm and relaxed state.
Types of Dental Sedation Available
Oral

Inhalation

Local Anaesthesia

General Anaesthesia
How it helps in overcoming Dental Fear?
In essence, Dental Sedation ensures that you have a pleasant and pain -free dental experience. This significantly helps in making you more comfortable and confident in visiting our dental clinic. As a result, you will no longer feel anxious and scared about seeing your dentist and undergoing dental treatments.
In addition, Dental Sedation is also used when lengthy procedures or multiple treatments are required. The sedatives can work for an extended time and it can make you lose track of time and memory of the treatment. For certain, Dental Sedation helps in ensuring a better dental experience for you.
Safe and Effective Dental Sedation in Geelong
There is an effective way of conquering your dental fear. For excellent work on Dental Sedation, consult your trusted Geelong dentist here at All Smiles Dental. We always make sure that your dental experience with us is as pleasurable and enjoyable as possible. So that the next time you visit us, you are less anxious and more confident.
Call us today on (03) 5229 5856 or simply book an appointment online.