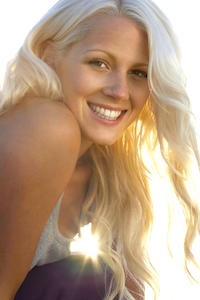 As you grow older, your smile changes. While other people are blessed with almost perfect teeth – white, strong and healthy, most individuals tend to be more susceptible to various dental issues such as tooth damage, periodontal disease, and tooth loss.
If you are one of those persons who have lost their beautiful smile due to tooth loss, advances in modern dentistry has the answer and solution you need. Through state of the art procedures, you will no longer suffer from missing teeth.
One visit to the dentist may change everything positively, because a healthy and complete smile may lead to a happy and satisfied life. At All Smiles Dental, improving your smile is our team's passion and specialty. For missing teeth issues, one of the treatments we recommend is dentures.
The Benefits of Dentures
Your dentist will first perform a thorough examination and consultation to discuss the available options and determine a course of action. After the entire process, which includes determining if dentures are the best treatment for your missing teeth, your dentist will help you decide what type of denture will best suit your health and budget needs – options available include full or partial dentures.
Once you have your dentures, you are now ready to show off your new, healthy-looking smile. Here are the top benefits of dentures:
Fully functioning teeth: this is the main benefit of having dentures. Your dentures can make your teeth look and feel so much better. Modern dentures are enhanced to look more natural and provide a better fit than in the past.
Make you look younger: because dentures are restorative treatments, they can surely restore your appearance and make you look five years younger. Missing teeth affects your look by causing a sunken-cheek appearance, but with dentures, the old look can be reversed by giving your face instant shape and definition.
Allows you to enjoy the foods you want: dentures re-establish your mouth's functionality, which allows you to chew and bite again. Though you need to eat softer foods for a few weeks following the treatment and avoid sticky foods, overall, you'll be able to enjoy most of your favourite foods again.
Gives you confidence: wearing dentures gives you more reasons to smile. Having missing teeth can affect your self-esteem and social interaction. With dentures you can bring back your lost confidence – now you can smile without hesitations and feel proud.
What to Expect after Getting Dentures
Materials used in modern dentures are improved to eliminate the conspicuous false teeth that were used in the past. High-quality acrylics can match the natural colour of the teeth to near perfection.
After the procedure, it may take some time to get used to your dentures, whether it's the full or partial type. Patients often adapt to the new feel and function of dentures in several weeks. Every part of your mouth including any natural teeth needs time to become accustomed to your full or partial dentures.
In addition, since dentures are not your natural teeth, you may need to adjust the types of foods you eat and that could result in problems. To help you learn to live with your new teeth, your dentist will help you with any problems you might encounter with your dentures and will provide aftercare advice to avoid any complications.
High-quality Dentures at All Smiles Dental
Not having a complete set of teeth can cause a lot of concerns. For top-notch solutions to missing teeth, consult your trusted Geelong dentist here at All Smiles Dental. We can provide you with best-quality dentures and other tooth replacement options so that the beauty of your smile and the function of your teeth can be restored.
For a healthier and beautiful smile today, Call us on (03) 5229 5856 or book your appointment online.