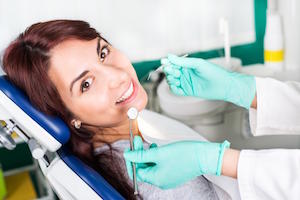 Dental cleaning can be personal or professional. Personal teeth cleaning is done at home using common tools such as a toothbrush and floss at least twice a day. Professional teeth cleaning can be a routine cleaning indicated for people with healthy mouths recommended at least every 3 to 6 months. If you have gum disease or poor oral hygiene, your dental team may perform a deep cleaning, which involves using special tools and a more intricate process of cleaning to restore the health of your gums.
Cleaning your teeth at home is not enough to remove the plaque build-up that may lead to gum disease and tooth loss. You need help from your dental team as they have the needed tools and skills of cleaning your teeth, gums and tongue in the most comprehensive way. If you want to prevent serious oral health diseases and maintain a healthy mouth for life, the best thing you can do is to invest in preventive dental services such as professional teeth cleaning.
Four Types of Professional Teeth Cleaning
Here are the some of the most common types of dental cleanings performed by your dentist and dental hygienist:
Prophylaxis – this is also called as "prophy" and is a preventative cleaning designed for people with healthy mouths and no gum disease. Prophylaxis is the most common type of dental cleaning, which involves removal of stains and plaque build-up on teeth surfaces and gum line.
Full mouth debridement – for those who have gum disease, they require a generalized removal of heavy plaque and tartar build-up such as full mouth debridement. This type of dental cleaning is best suited for patients who have not had their teeth professionally cleaned in more than a year.
Root planing – this type of dental cleaning is used to treat moderate or advanced periodontal disease. Root planing is also called deep cleaning and is often preceded by full mouth debridement. To treat gum disease, antibiotic gels are applied along with root planing.
Periodontal cleaning – to prevent further bone loss caused by gum disease, the patient is given a periodontal cleaning at least every 3 months.
Other Dental Services During a Professional Teeth Cleaning
During a professional dental cleaning, you will be able to receive diagnostic and preventive care services from your dental professional including any necessary oral health educational information.
Diagnostic services may include reviewing and updating of your medical history, examination and screening for oral cancer, evaluation of gum tissue, x-rays to detect tooth decay and referral to dental specialists for special treatment.
In preventive services, your dentist may perform different treatments and procedures to help prevent the onset of oral health diseases. This includes removal of plaque and calculus, fluoride application, teeth polishing, application of sealants or fillings as well as denture cleanings and adjustments.
To help improve your knowledge about proper oral hygiene habits, your dental team will also provide you with educational services, which may include tooth brushing and flossing techniques, nutritional counselling, self-care effectiveness evaluation and tobacco-cessation counselling.
Healthy Teeth and Gums for Life with Professional Teeth Cleaning in Geelong
If you want to prevent gum disease, avoid having missing teeth, always want to have fresh breath and a complete smile, the simple solution is professional teeth cleaning. This non-invasive and safe dental procedure offers amazing benefits to your overall oral health and general wellbeing. If you want to know what type of dental cleaning is best for you, schedule an appointment today with your Geelong dentist here at All Smiles Dental.
For a healthier and beautiful smile today, Call us on (03) 5229 5856 or book your appointment online.