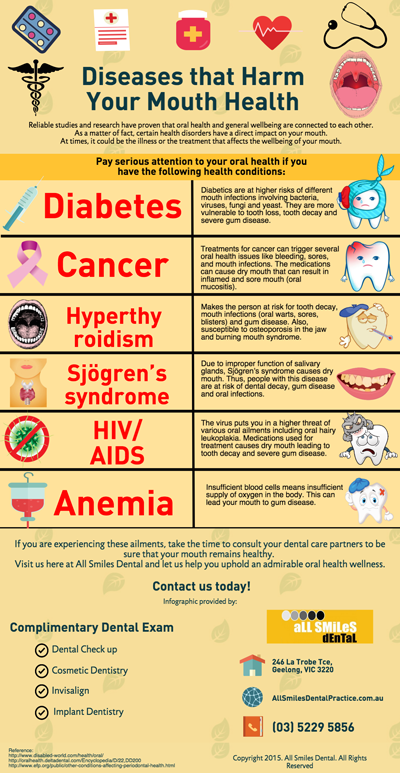 Your oral health could affect, be afflicted or contribute to various conditions and diseases. Aside from cancer, diabetes, HIV/AIDS and many others, your dental wellbeing is not excused from cardiovascular disease, osteoporosis, Alzheimer's disease and during pregnancy period. Due to these potential connections, it is a must to tell your dentist if you are taking medications or have had any fluctuations in your general health, particularly if you have had any new ailments or suffering from a chronic condition like diabetes.
Protect your oral health every day by doing the most proper prevention program. Aside from your oral care routine, eating a healthy diet and engaging in a healthy lifestyle is essential. Visit your dentist for regular checkups and cleanings. As soon as an oral health issue arises, contact your dental team immediately. Keep in mind that having healthy teeth and gums can lead you to a healthy body and personality.
To know more about the link between your oral health and these diseases, visit your reliable Geelong dentist here at All Smiles Dental. We have dedicated and skilled dental team that can thoroughly diagnose and provide suitable treatment for various oral health problems. We offer best-quality dental procedures and have the top-rate dental equipment to address the issue efficiently and successfully.
Claim your Guaranteed Same Day Emergency Appointment online or call us on (03) 5229 5856. Contact us today for your FREE Consultation to see if Invisalign is suitable for you. Check out our website at www.invisalignvic.com.au.