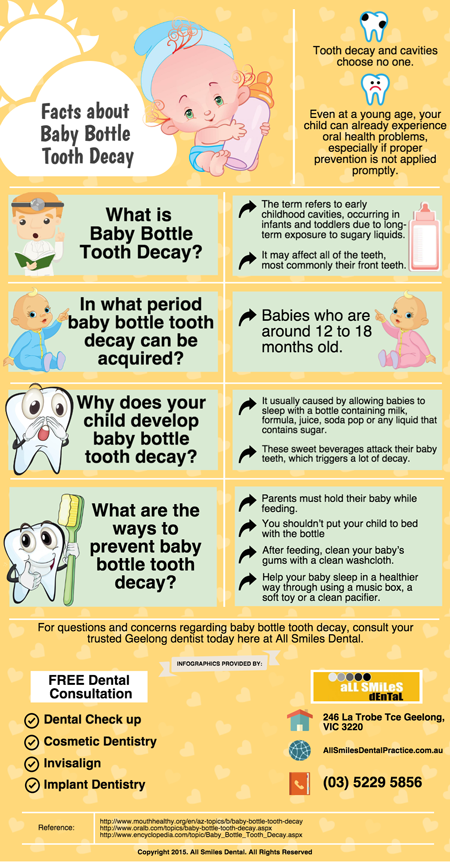 As soon as the first tooth appears, your child can be susceptible to decay. Tooth decay and cavities in infants and toddlers is called baby bottle tooth decay. Teeth in other parts of their mouth can also be affected but the ones that are on the front are the most vulnerable for this is the part they always used to bite and sip the liquid from the bottle.
Prolong exposure to sugary drinks especially when the child consumes it during bedtime poses a huge risk for decay since sugar activates the oral bacteria. When this happens, harmful acids are emitted. These acids infect tooth enamel and slowly wearing it away. As a result, your child will experience painful cavities as well as pediatric tooth decay. Because of this, they may also face some difficulties in speaking and chewing. It is advisable that while they are still young, proper prevention towards dental problems must be applied and implemented right away.
The good news is cavities can be prevented. With the right oral care routine at home and regular dental checkups with your child's dentist, baby bottle tooth decay can be avoided effectively. When it comes to your child's oral health, visit your reliable Geelong dentist here at All Smiles Dental. With our top-notch dental care treatments, we can successfully lead your child to a better, admirable oral wellness.
Claim your Guaranteed Same Day Emergency Appointment online or call us on (03) 5229 5856. Contact us today for your FREE Consultation to see if Invisalign is suitable for you. Check out our website at www.invisalignvic.com.au.