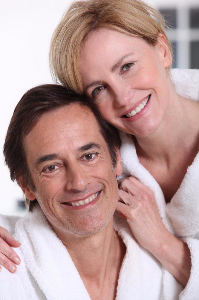 Full mouth reconstruction is recommended for people who have severe dental problems. If your smile is depreciated over time due to dental decay, disease or other issues, it may be essential to take a comprehensive look at the procedure for your whole mouth. Full mouth reconstruction refers to rebuilding entire teeth in the mouth of a patient. It combines aesthetics with the science of restorative dentistry to help improve the function, health and beauty of the smile.
Aside from restoring the appearance of your teeth, full mouth reconstruction also reestablishes the teeth's structure and function. In addition, it also resolves persistent and painful problems with your teeth or jaws. People who suffer from Temporomandibular joint disorder (TMD), broken, chipped, or missing teeth can be considered as good candidates for a full mouth reconstruction.
Dental Procedures under Full Mouth Reconstruction
Restorative dentistry refers to the set of procedures intended to replace missing teeth, fix damaged teeth, address worn-out dental work, adjust improperly seated jaw joints and faulty bites and in some cases treat mouth diseases. Each of these restorative procedures may be done individually, however, when the multiple dental problems occur, your dentist may suggest full mouth reconstruction.
Several treatments are involved in full mouth reconstruction. Your dentist may advise one or more of the following procedures, depending on your particular situation.
Restorative dental treatments
Dental crowns
Bridges
Fillings
Inlays and onlays
Cosmetic Dentistry
Porcelain veneers
Dental bonding
Teeth whitening
Gum re-contouring
Implant Dentitsry
Dental implants to replace missing teeth
TMD Treatment
Correction of issues involving TMJ and the bite
Bruxism Treatment
Treats teeth grinding and related indications
Oral Surgery
Root canal treatment
Tooth extractions
Soft and hard tissue grafting
Orthodontics
Invisalign
Traditional braces
Spacers, expanders and retainers
Periodontal Treatments
Scaling, root planning and gum surgery
Your First Step for a Full Mouth Reconstruction
As soon as your dentist figures out the type of procedures you need, you will establish treatment phases and set up a time frame for completing care. At this period, it is important to discuss the cost of your care including the treatments that your dental insurance covers. You want to be sure your dentist is capable of creating a payment plan you will be able to afford. Mouth reconstruction can be expensive and will surely involved procedures done over a period of time. Take the first step by speaking with your dentist to know if you are indeed a candidate for full mouth reconstruction. Afterwards, consider getting some opinions to make sure you find the perfect fit for your requirements.
Top-rate Full Mouth Reconstruction in Geelong
With full mouth reconstruction, you can rebuild your smile to full health and beauty. To know more about full mouth reconstruction, consult us here at All Smiles Dental and let us help you determine if you're a candidate for this procedure. Our dental team is comprised of highly skilled and proficient dental experts who perform outstanding work when it comes to solving numerous dental problems. We offer a comprehensive range of dental procedures, which remarkably help restore not only your smile and confidence but also the quality of your life.
Claim your Guaranteed Same Day Emergency Appointment online or call us on (03) 5229 5856. Contact us today for your FREE Consultation to see if Invisalign is suitable for you. Check out our website at www.invisalignvic.com.au.