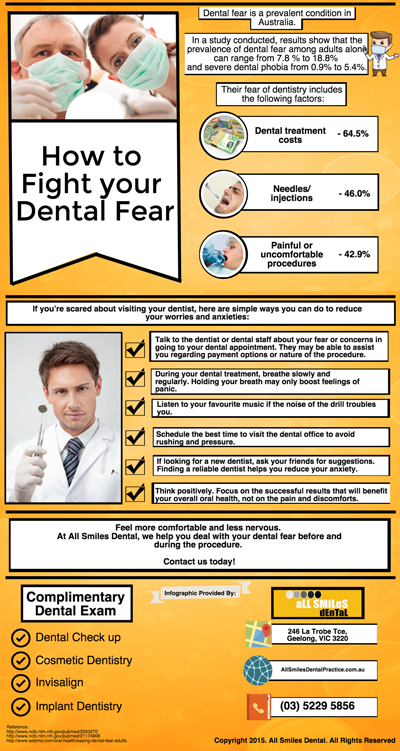 The importance of going to the dentist and have your teeth and gums treated with certain procedures is crucial for your general health and oral wellbeing. However, many people still overlooked the benefits of dental checkups and the most alarming of all, they experience anxiety when it's about dental visits and treatments. Such fear is called dentophobia or odontophobia. It is a deep-seated fear of seeing the dentist or undergoing dental procedures.
Dental phobia can be a result of different things such as previous traumatic experience at the dental practitioner, extreme anxiety during the procedure and an accident while the treatment is being made. These factors can highly create a negative impact on a patient's memory; thus, the fear starts to consume the patient over time upon hearing the words that are related to dentistry. There are numerous techniques so you will be able to overcome your fear of dentists. Some of the most effective ways to stay and feel more relaxed once you plan for your appointment include psychological help, technology/gadgets assistance and also sedation (pills or anaesthesia). If you encourage your mind to think positive about dental treatments, your fear will surely have a hard time penetrating your thoughts.
Here at All Smiles Dental, we help patients fight their dental phobia through giving them the needed support before the procedure. We also have numerous options to ease your anxieties and discomfort. All Smiles Dental are comprised of passionate and welcoming staffs who are always willing to extend a hand to people who visit our office, especially those who suffer from dental fear. Your trusted dentist in Geelong provides wide-ranging oral care treatments to cater the needs of your teeth and gum health for a superior oral health wellness.
Claim your Guaranteed Same Day Emergency Appointment online or call us on (03) 5229 5856. Contact us today for your FREE Consultation to see if Invisalign is suitable for you. Check out our website at www.invisalignvic.com.au.