When tooth damage has become too difficult to address using Tooth Fillings, your dentist will recommend that it should be treated using Inlays / Onlays instead.
What are Inlays / Onlays?
These are tooth restorations which can rebuild a large part of your damaged tooth. Like Tooth Fillings, these are placed into your teeth. The difference is that, Inlays and Onlays are fabricated at the dental laboratory before being fitted and bonded to your teeth.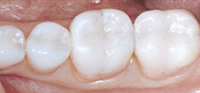 Inlays are called as such because the material is bonded within the centre of your tooth. Whereas for onlays, they involve a larger part, usually including the entire biting surface.
Getting these tooth restoration options usually take 2 or more dental appointments. During the first visit, impressions of your teeth are taken and sent to the dental laboratory where your inlays / onlays will be manufactured. On the next appointment, the restoration will be fitted and cemented into place.
The Advantages Of Inlays / Onlays
Dental care experts claim that, compared to dental fillings, inlays and onlays fit better and last longer. Moreover, these tooth restoration options are also beneficial in improving the aesthetic quality of your teeth. They look and feel just like your natural teeth and they are not likely to discolour over time.
In addition, having inlays / onlays is a conservative dental solution. Much of the healthy parts of your precious teeth are preserved during the procedure. Also, these can help restore the strength of your teeth, protecting your weaker teeth from further harm as a result of wear and tear. All in all, inlays and onlays are effective long-term solutions to tooth decay and tooth damage.
Exceptional Work on Inlays / Onlays in Geelong
Bring back the perfection of your teeth and your smile. For top-notch inlays and onlays or other options under Restorative Dentistry, consult your trusted Geelong dentist here at All Smiles Dental. We make sure that we can cater to all your immediate and long-term dental care and oral health needs. Call us today on (03) 5229 5856 or simply book your appointment online.