Want to straighten your teeth without getting braces?
Yes, it is now possible using the revolutionary Invisalign!
What is Invisalign?
In essence, Invisalign is an almost invisible way to get your teeth into their proper alignment. The treatment uses a custom-made series of removable aligner trays that gently and gradually shift you teeth into place. These trays are made of smooth and virtually invisible plastic which are very comfortable to wear. No need for those metal brackets and wires. With Invisalign, you'll just get results.
Why choose Invisalign?
The treatment is practically invisible. Nobody will notice that you are actually getting orthodontic treatment.

The entire treatment is pain-free. It is non-invasive and keeps you away from stress or any form of discomfort.

The Invisalign aligners are removable. This helps in maintaining optimal dental and oral health as you undergo the treatment. You can easily clean your teeth and gums.

Plus, because the aligners can be conveniently removed, you can still munch on your favourite treats. The treatment does not place any restrictions on food and drinks.

Both teens and adults can experience the advantages of this orthodontic solution. Also, it can be used to deal with a wide range of orthodontic concerns.
The Process Involved In Invisalign Treatment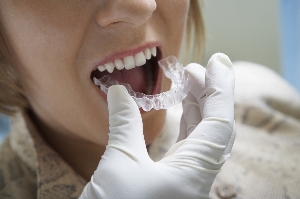 As you visit your reliable dentist in Geelong here at All Smiles Dental, you will undergo a comprehensive dental consultation so that we can discuss and come up with a dental treatment plan that suits your orthodontic needs. Based on this plan, your custom-made aligners are then created for you. To achieve the desirable results quickly, it is recommended that you wear your aligners for 20 hours a day and change it every two weeks. After 12 to 18 months, depending on the case, you can then enjoy a much more pleasant smile. In order to keep your teeth in perfect condition, you should observe proper oral hygiene and this involves visiting our dental clinic every 6 months.
Invisalign In Geelong: The Clear Orthodontic Solution
Experience this highly-innovative approach to having straighter teeth. For top-notch work on Invisalign in Geelong, consult your trusted dentist here at All Smiles Dental. We can provide you with high-quality dental and oral health care so that you can enjoy a much healthier and more beautiful smile. Call us today on (03) 5229 5856 or simply book your appointment online.