Proper Oral Hygiene
Education and awareness play a huge role in upholding dental health and oral wellness.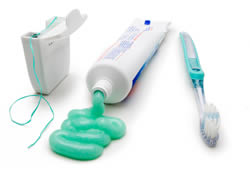 Seeing your dentist is not just about having your teeth and gums checked or fixing a dental emergency. Your dental care partners can also serve as your guide as you strive for optimal dental and oral health.
As such in every dental appointment here at All Smiles Dental, we see to it that, in addition to a regular checkup and consultation, you are also provided with invaluable information on the well-being of your teeth and gums so that you can make well-informed choices when it comes to ensuring healthy and beautiful smiles for your family.
A Focus On Prevention
Here at All Smiles Dental, we put more emphasis on prevention and providing you with sufficient knowledge and understanding on dental health is key towards achieving this. That is why we see to it that you are well-equipped as we work together on protecting your teeth and gums from prevalent dental and oral health issues.
Your trusted dentist in Geelong will give you a detailed instruction that will help you create an oral health routine to address your unique dental and oral care needs. By improving your awareness and developing healthy oral care habits, we can effectively prevent the onset of dental and oral health concerns and significantly improve your overall well-being.
Some Reminders From Your Friendly Geelong Dentist
Brush your teeth twice and floss daily.

Observe proper brushing and flossing techniques.

Use a fluoride toothpaste.

Ask you dentist regarding which toothbrush best suits your teeth and gums.

Limit consumption of foods and drinks with have too much sugar or too high acidity.

Use a straw for these kinds of beverages and rinse your mouth with water after consuming these treats.

Visit us every six months for a routine dental consultation.
Comprehensive Dental Care In Geelong
For more expert tips on keeping your teeth and gums perfectly clean and healthy, consult your trusted Geelong dentist here at All Smiles Dental. We can provide you with high-quality dental care that is both convenient and affordable for you and your entire family. We make sure that you are well-aware when it comes to dental and oral health so that you can enjoy a lifetime of beautiful and healthy smiles. Call us today on (03) 5229 5856 or simply book your appointment online.