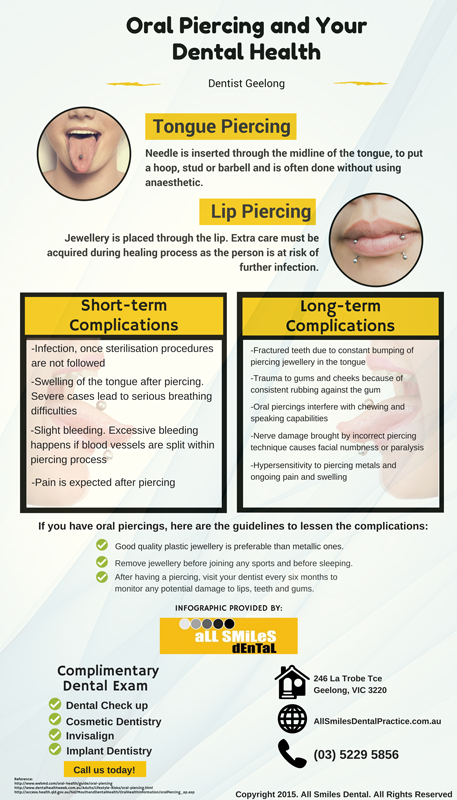 Oral piercing is a procedure that involves needles passing through your tongue, lips or cheeks to insert jewellery like rings, barbells or studs. Piercing is often performed without the application of anaesthetic. As a result, minor and severe effects would lead to a series of serious oral complications that could happen in short-term or long-term. Some people would still engage with this kind of stuff in spite of the risks that they will meet along the way.
Before you commit yourself with oral piercing, it is important to consider some factors to prevent or lessen some complications. This includes the proficiency of the practitioner and the appearance of the studio as well as the materials and equipment to be used. However, if you truly value the health of your teeth and gums, getting oral piercing would not be a wise choice to make.
If you have experienced far more than simple swelling and pain in and out your mouth after getting an oral piercing, you must visit your health professional right away. Here at All Smiles Dental, we have wide-ranging dental procedures that will surely cater your numerous oral health issues. Through our outstanding expertise, we can provide information about the health risks of oral piercing concerning your overall oral wellbeing.
Claim your Guaranteed Same Day Emergency Appointment online or call us on (03) 5229 5856. Contact us today for your FREE Consultation to see if Invisalign is suitable for you. Check out our website at www.invisalignvic.com.au.