Root Canal Treatment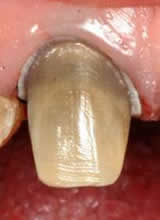 Experiencing a severe toothache? Better visit the dental clinic immediately.
You might need to undergo a Root Canal Treatment.
Usually, when people hear from their dentist that they will need this therapy, they get anxious and afraid. In reality, Root Canal Treatment is probably the most misunderstood dental procedure there is.
It is commonly thought of as a painful procedure and this is the main reason why dental patients tend to avoid this even if this means putting up with the intense toothache every single day.
Symptoms that may mean you need to undergo Root Canal Treatment
Sudden pain in your tooth

Heightened sensitivity

Intense and recurring toothache

Loosening of tooth

Swelling of gums near affected tooth

Blood and pus surrounding the tooth

Spreading of pain to jaw and ear
What exactly is Root Canal Treatment?
The excruciating pain in your tooth might be caused by an infected tooth pulp. When teeth get damaged, bacteria might access the tooth pulp and other soft tissues inside. This causes inflammation and pain. In essence, Root Canal Treatment involves removing the infected tooth pulp and replacing it with a filling.
The procedure usually takes two to three dental visits. During the initial visit, your condition will be examined and diagnosed using the most advanced equipment so as to come up with accurate results. Then, the tooth is prepared by opening a cavity into the tooth pulp chamber. Here at All Smiles Dental, your comfort and safety is our top priority.
That is why we perform this with the use of Local Anaesthetic.
The infected portions are then removed and the chamber is thoroughly cleaned using disinfectants and then dried. The root canal will then be sealed using a temporary filling. On your next visit, the temporary filling is removed and your dentist will make sure that your tooth is completely clean. Once done, the permanent tooth replacement, usually a dental crown, can then be placed.
Safe And Gentle Root Canal Treatment in Geelong
The root canal treatment is a dental procedure that is meant to save you from pain and your teeth from extraction. For gentle and effective Root Canal Treatment in Geelong, consult your dental care partners here at All Smiles Dental. We aim to provide you with the very best of modern dentistry so that you can enjoy a life marked by healthy smiles.
Call us today on (03) 5229 5856 or book your appointment online.