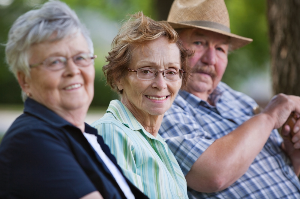 Studies show that seniors are at a higher risk for cavities and tooth decay compared to children.
Fortunately, many seniors nowadays keep their biological teeth much longer than seniors in the past. There is less need for teeth replacement such as dentures, however if the natural teeth remain, there's a possibility for cavities and gum disease. If these are not treated, the teeth become painful, chipped or loose. As a result, this can lead to chewing problems, changes in facial structure, and eventually affect one's confidence and wellbeing.
Contributing Factors of Cavities in Seniors
There are many reasons why seniors are more prone to cavities and decay:
Physical Changes – older adults often endure numerous body changes. These changes may affect their overall oral wellbeing, which may leave them at more risk for dental problems like dental caries.
Dry Mouth – certain types of medications affect the production of saliva in the mouth. The saliva rinses and fights harmful mouth bacteria and an insufficient amount will promote the formation of dental caries.
Gum Disease – this causes the gums to recede and expose more of the tooth to plaque and bacteria. Tartar buildup can leave the tooth more at risk for developing cavities.
Poor Dental Care – in the past five years, it was estimated that about 23 % of seniors haven't visited their dentist. Poor oral and dental care maintenance increases the risk of not only cavities but also many other oral health issues that could impact the general health.
Ways to Safeguard Teeth from Cavities
Here is a dental care checklist for seniors who need to pay extra attention to their overall oral health.
Healthy Diet

: Limit your sweets. Consume foods and beverages that are low in sugar and high in calcium.
Choose electric toothbrush if necessary

: Many patients say that electric toothbrushes are not only easier to use, it also makes brushing more fun. If you have arthritis or experiencing decreased mobility that is an issue for your daily oral care tasks, consider switching to an electric toothbrush.
Visit the dentist regularly

: Regular checkups, cleanings and exams are highly essential for your oral health even if you have good oral hygiene at home. Routine checkups can help you save money on costly dental procedures such as treatment for gum disease in the future.
Optimum Oral Health for Seniors at All Smiles Dental
Cavities can develop on anyone's natural teeth. Without early prevention, this dental problem may cause serious health problems and become more difficult to treat. Your trusted Geelong Dentist at All Smiles Dental can provide you with guidelines and tips on how to keep your teeth strong and healthy. Seniors may have a hard time dealing with their dental care at home and our dental team is ready to assist with a friendly and comforting approach during consultations and provide unparalleled dental care. For high-quality dental service, consult our experts today!
Claim your Guaranteed Same Day Emergency Appointment online or call us on (03) 5229 5856.