Do you snore?
Wake up feeling like you haven't slept?
Feel tired during the day?
What is Sleep Apnoea?
It is a sleeping disorder wherein your breathing gets interrupted or becomes very shallow as you doze off to sleep. This is caused by an obstruction of your airway due to excess tissue in the area and the collapsing of airway muscles during sleep. These interruptions can last between 10 to 20 seconds and can transpire up to hundreds of times per night, keeping you from having an enjoyable sleep.
How does Sleep Apnoea affect you?
There are several types of sleep apnoea but the most common among all of them would be Obstructive Sleep Apnoea. It occurs when the soft tissue near the back of your throat relaxes and causes a blockage of your airway. This condition can be a bit difficult to diagnose and it can affect you in a number of ways. Obstructive Sleep Apnoea has been known to be closely associated to:
Excessive daytime sleepiness
High blood pressure
Heart Disease
Stroke
Diabetes
Acid reflux
Headaches
Poor concentration
Sexual dysfunction
Social problems
Risk Factors Involved
Being overweight

Smoking

Alcohol consumption

Some medications that exhibit the same effect as that of alcohol

Allergies and asthma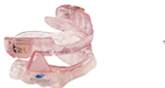 How can your Geelong dentist help?
Although there are a number of products and devices available to help you with snoring and sleep apnoea, here at All Smiles Dental we can provide you with a custom-made Mandibular Advancement Splint (MAS) that you will wear during sleep. This oral appliance keeps your airway open while you sleep by holding your lower jaw and tongue forward.
Expert Guidance On Snoring & Sleep Apnoea In Geelong
You do not have to put up with the consequence of Sleep Apnoea. We at All Smiles Dental can help you address this concern so that you can have a more restful sleep. Custom made oral appliances are now regarded by sleep physicians as the best available treatment for snoring and sleep apnoea. Oral appliances are proven, effective, comfortable and easy to use. Call us today on (03) 5229 5856 or simply book your appointment online. Here at All Smiles Dental, we are all about your smile.