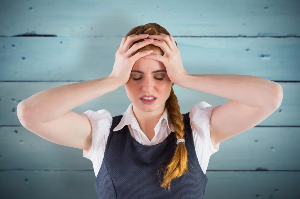 Stress doesn't only show on your face. It does not only affect your body, emotions and lifestyle. During dental checkups and cleaning, your dentist can detect oral symptoms of stress this is because researchers have found a strong link between stress and oral health.
When stress takes place, a person is affected by poor oral habits that may affect his or her oral wellbeing like smoking or alcohol use. For this reason, stress has been discovered to be contributing to numerous dental problems.
Stress and Oral Health Connection
The potential consequence of anxiety and stress that has the ability to affect your oral health includes the following oral health issues:
Mouth sores/ canker sores have no exact causes but at times, they are brought on by stress. These small lesions can be throbbing even though they are harmless.
Dry mouth is a condition in which your mouth doesn't generate enough saliva. Dry mouth doesn't only result from condition triggered by stress but is also a side effect of medication used to cure depression.
Teeth grinding can occur at night when you are stressed out, which lead to the damage of some of your tooth. If you're suffering from bruxism, your dentist may prescribe a night guard to protect your jaw.
TMD or temporomandibular joint disorder happens due to trauma and tooth grinding. Also, anxiety and depression can trigger signs of TMD.
Gum disease can be highly experienced by a person who's been under long-term stress as what many studies have revealed. Stress makes your immune system weak and increases the person's proneness to infections like gum disease.
Upholding your Oral Heath when Under Stress
To start your fight against the negative effects of stress, you must first remove its primary source. If this is not helpful, you can also seek aid from meditation, counseling, yoga or physical therapy so as to reduce your tension.
Most of all, maintain practicing good oral hygiene every day. According to a health expert, people who are stressed out tend to neglect their oral care. Other people choose to smoke or consume alcohol to relieve their stress. Others munch on sugary and carbohydrate-loaded foods, which can only promote cavities and tooth decay.
Don't let stress affect your oral health. Even you are stressed out, you must still consider the health of your teeth and gums as not paying attention to it may lead you to a bigger health problem. Aside from your daily oral hygiene such as brushing and flossing teeth, you need to schedule regular dental appointments, eat a healthy diet and get plenty of sleep.
Admirable Oral Health with your Reliable Geelong Dentist
If you are battling with stress today, it is important to take actions so you can avoid deteriorating yourself and your health, particularly if it's a long-term one. Visit your reliable dental care partners here at All Smiles Dental, and let us provide you a thorough examination with your oral symptoms involving stress. We offer top-rate dental treatments to cater various oral health problems. With the help of our remarkable expertise, we help you improve your oral health significantly against the adverse effects of stress.
Claim your Guaranteed Same Day Emergency Appointment online or call us on (03) 5229 5856. Contact us today for your FREE Consultation to see if Invisalign is suitable for you. Check out our website at www.invisalignvic.com.au.