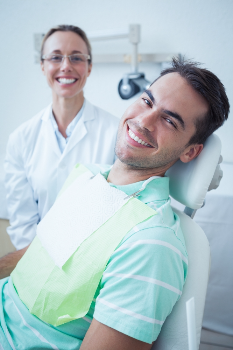 Any medical exams are important to a person's health, as it is the doctors' way of inspecting the latest health status of their patients. The same thing about dental exam, your dentist will be able to check for any dental problems you might have for the past few months after your last visit and perform things that will keep your entire mouth healthy.
During a dental exam, your dental team will clean your teeth and inspect for cavities and check signs of gum disease. They will also evaluate your probability of developing other oral health problems, including the inspection of your face, neck and mouth for any oddities. The examination may also involve dental X-rays or other diagnostic procedures. Also, before leaving the office, your dentist will also provide you with helpful instructions on how you can improve your oral health involving your dental care at home, diet and tooth-friendly activities.
Dental Exam: Cleaning and Examining your Teeth
Professional teeth cleaning is a basic yet one of the most important dental treatments of all time. This procedure uses different specialised tools that intend to clean your teeth surfaces and gums deeply. The benefits of professional teeth cleaning are simply tremendous, making it the leading reason you should visit your dentist regularly. During a cleaning, your dental team will perform the following:
The dentist or hygienist uses a dental scaler to scrape off tartar (calculus) above and below the gum line.
The dentist may use an ultrasonic vibrating device for shaking loose plaque and tartar. Afterwards, this will be rinsed away with flowing water.
Your teeth will be polished using a slightly abrasive paste and wrap up with a flossing
After the dental cleaning, your dentist will then examine your teeth and mouth:
For signs of decay, your dentist uses a metal probe including a small mirror that has an angled handle.
For signs of gum disease, gums are checked for swelling, redness and depth of the gingival pockets.
Look for evidence of bruxism (teeth grinding) and TMJ problems
Neck, lymph glands, palate and soft mouth tissues are also examined for marks of oral cancer, especially for patients who are 35 years old and above.
Don't Skip your Dental Exam!
Regular dental exams help uphold and protect your oral health as well as your general wellbeing. Even if you don't have any natural teeth, it's crucial to visit your dental team for regular dental exams so they can help you maintain a healthy mouth and the usefulness of your teeth replacement. The ADA suggests that adults make a dental exam appointment at intervals determined by a dental expert. For those people who are at higher risk of dental problems and mouth diseases, they might need to consult their dentist every 3 or 4 months, or even more, depending on your dentist's recommendation.
Schedule a Regular Dental Exam in Geelong Today
When it comes to your overall oral health, your dentist is your ultimate best friend. Your teeth and mouth can be easily cleaned at home but it doesn't mean that you have completely cleaned and polished them. For comprehensive teeth cleaning and oral examination, visit your trusted dentist in Geelong here at All Smiles Dental. WE help you keep you mouth in top shape by our topnotch and across-the-board dental examinations. We also offer best-quality dental treatments that range from General, Preventive, Restorative and Cosmetic Dentistry.
Claim your Guaranteed Same Day Emergency Appointment online or call us on (03) 5229 5856.