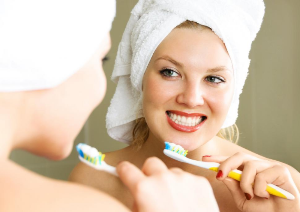 The reason you need to brush and floss your teeth is to eliminate plaque. Bacteria in plaque responds with sugar found in foods you consume to generate acids that attack and deteriorate tooth enamel.
Though enamels are known to be a rigid, protective covering on teeth, once it became eroded, enamel leaves the teeth unprotected and allow tooth cavity to build up quickly.
Tooth Cavity Prone Areas
There are various places where a tooth can suffer cavities.
Cavities on the biting surfaces of the teeth occurs when plaque are trapped in the crevices or grooves of the teeth. It is common in kids since they usually miss these parts when brushing their teeth.
When plaque is left to develop on the hard-to-reach areas, cavities in between teeth happen. A toothbrush alone cannot reach these surfaces. It requires flossing and thorough cleaning of between teeth regularly so your teeth will not be susceptible to decay.
Cavities on the root surfaces of the teeth occur if you have experienced gum recession or bone loss, which is often linked to periodontitis or gum disease. Tooth cavity can develop quickly if plaque build-ups foster on the exposed roots of the teeth.
First Step in Preventing Tooth Cavity
When it is about cavities, prevention is sure to be the best option and protection. With the help of your consistent daily brushing and regular flossing, you can prevent tooth cavity from manifesting. Pick from different types of oral care products to find something you are attracted with so you will love to use them every day.
Do not avoid cleaning your teeth by time you think you are developing tooth cavity. Though you undergo painful brushing and flossing, it is crucial not to avoid sensitive parts. You only need to use soft dental floss and soft-bristled toothbrush, with warm water.
Don't forget to make an appointment with your dentist for professional cleaning and to find issues before they become serious. If your dentist detects a cavity early, fluoride treatments might be recommended to help restore the tooth enamel and help avoid the need for a tooth filling.
Expert Advice and Treatment for Tooth Cavity in Geelong
To deal with a tooth cavity effectively, visit your dependable Geelong dentist. Your dental care partners here at All Smiles Dental can help you prevent cavities from happening through our incomparable dental and oral care treatments. With our expertise in modern dentistry, we let you experience supreme overall oral wellness for better quality of life.
Claim your Guaranteed Same Day Emergency Appointment online or call us on (03) 5229 5856. Contact us today for your FREE Consultation to see if Invisalign is suitable for you. Check out our website at www.invisalignvic.com.au.