Having your teeth filled is one of the most common procedures under Restorative Dentistry.
When a part of a tooth has been lost to decay or has been damaged due to injury, Tooth Fillings can be used to restore the tooth back to its normal form and function.
Two Different Types of Tooth Fillings
Amalgam – silver-coloured filling which is actually an alloy predominantly made of Mercury, as well as some parts of Silver, Tin, Copper, and Zinc.
Composite – tooth-coloured fillings made of resin.
Comparing the Two Tooth Fillings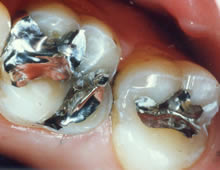 Among the two, amalgam tooth fillings have the better durability. These can endure the wear and tear for longer periods of time. Plus, they are more affordable compared to composite tooth fillings, making amalgam the more cost-efficient choice.
Then again, the use of amalgam tooth filings today has steadily declined. This can be attributed to the several disadvantages that amalgam brings such as:
People are hesitant about the safety of mercury.
They look unnatural and unattractive.
It can cause tooth discolouration.
Amalgam expands and contracts as temperature changes.
Today, composite tooth fillings are the more popular choice when it comes to filling your teeth because they can address the concerns brought about by amalgam tooth fillings. Resin is available in different shades that is why these fillings look and feel just like your natural teeth. In addition to restoring your teeth to perfection, composite resin can also be used to close gaps between teeth and reshape your teeth.
Still, composite tooth fillings are not applicable for some cases, especially if you have a large cavity or if you grind your teeth while you sleep. That is why it is important to consult your reliable Geelong dentist first.
Top-Notch Work on Tooth Fillings in Geelong
When it comes to gaining back the normal function and form of your teeth, consult your trusted dentist in Geelong here at All Smiles Dental. We can provide you with high-quality tooth fillings and other solutions for Restorative Dentistry. Call us today on (03) 5229 5856 or simply book an appointment online. Here at All Smiles Dental, we are all about the wellness of your smile.