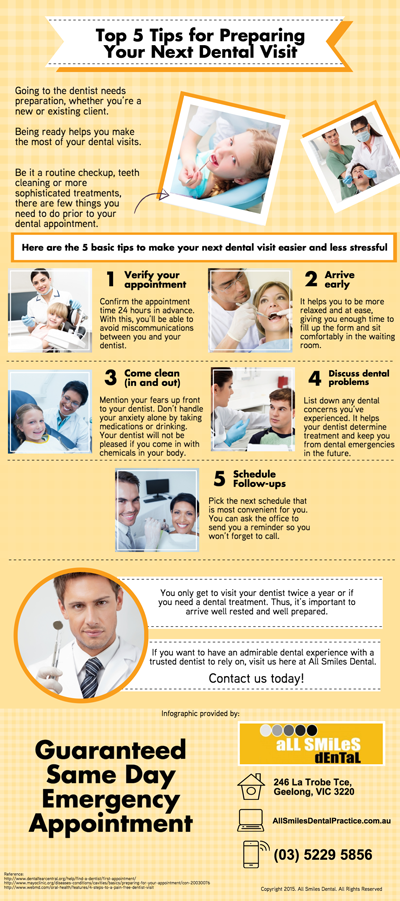 Are you ready for your next dental appointment? Well, you should be. Coming exhausted and late to the dental office won't ease your fear or make you comfortable while sitting in the lobby. It doesn't matter if you visit your dental team for minor checkup, professional teeth cleaning or a major procedure, there are important things you need to carry out and keep in mind before the day of your visit takes place.
First of all, you need to confirm your appointment 24 hours in advance. If you are a new client, be sure to call your old dental office and have your records referred to the new one. Brush and floss your teeth before heading to the dental visit. Sure, dentists treat bad breath, but coming in with a clean mouth is so much better. Provide your information by preparing your medical history, medications or dental insurance. Deliberate all your dental concerns and make sure to answer your dentist honestly when being asked about your condition. Don't be scared to tell your dentist if you have dental anxiety or phobia. They can provide you with helpful options to make you at ease throughout the procedure. Lastly, make sure to schedule your follow-up visit at your most convenient time so as to avoid the hassle and stress.
Your dental care partners in Geelong here at All Smiles Dental can give you more tips on how you can be well-prepared for your next dental visits. We also aim to make your dental visit as excellent as ever every time you come in our office to improve your dental and oral health. Our broad range of topnotch dental treatments can deliver outstanding results for you and your entire family. We constantly believe that a superior oral health leads to a higher quality of life.
Claim your Guaranteed Same Day Emergency Appointment online or call us on (03) 5229 5856. Contact us today for your FREE Consultation to see if Invisalign is suitable for you. Check out our website at www.invisalignvic.com.au.