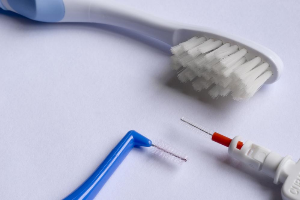 Gum disease is a serious dental problem causing damage to your teeth's supporting bone and triggering gums to recede; as a result, larger gaps in between teeth are created.
Brushing your teeth may not be enough to remove the plaque sticking in between your teeth. You a need a significant help from a small buddy called interdental brushes.
This little brush can be your besfriend in your daily oral care routine. With their name alone, they are used for interdental cleaning, which means cleaning between your teeth. When the toothbrush and dental floss have limitations in removing inter-proximal plaque, you can count on interdental brushes.
The Right Interdental Brushes to Use
To find the interdental brush that suits the spaces between your teeth, ask your dentist or dental hygienist for any recommendations. This is also necessary since getting the right size head for your gap is important.
You may also find that interdental brushes vary only with their shafts. It can be short or long with more bristles. Others are wide or flat and usually small or thin. This is not a big deal though, since the choice is up to you.
You might need different sizes of interdental brushes if you have a range of distinctive sized gaps. Yet you can also find that one size of the brush that provides excellent job to most of your teeth spaces.
Your Gums with Interdental Brushes
Using interdental brushes for the first time makes your tender gums bleed a little. This is typical as you start eliminating any plaque buildup. Just continue using the brush. As you get used to it, bleeding should reduce or stop while making your gums healthier along the way. On the other hand, if the bleeding continues longer than a week, consult your dentist for some advice about this.
One-of-a-kind Oral Health in Geelong
Combining interdental brushing with your usual oral care routine can enhance your oral health every day. This tool is very helpful especially if you have orthodontic appliances as it cleans deeply and efficiently all throughout. Here at All Smiles Dental we help you learn the correct ways of using interdental brushes as one way of improving the wellbeing of your teeth and gums. Through our comprehensive dental procedures such as preventative dentistry, you can enjoy a life without experiencing various mouth complications and just stay healthy for a better living.
Claim your Guaranteed Same Day Emergency Appointment online or call us on (03) 5229 5856. Contact us today for your FREE Consultation to see if Invisalign is suitable for you. Check out our website at www.invisalignvic.com.au.