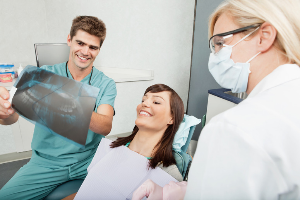 Dental x-rays provide images that contain valuable information concerning your teeth and gums. It also helps your dentist plan the suitable treatment for any health issues you have.
Though the machines used for dental x-rays involve radiation, the amount of exposure is extremely minimal. Therefore, studies have revealed that dental X-rays are safe for most patients in most conditions.
Why there's a Need for Dental X-rays
Dentists usually take mouth x-rays for new patients. The procedure may be repeated once every year. Dental X-rays help your dentist classify mouth infections that can't be identified by oral examination. Through this, your dentist will be able to diagnose and correct teeth problems early. Moreover, dental X-rays can also detect:
Tooth decay
Changes in the bone
Abscess
Cysts
Tumors
The following people are the ones who may require x-rays taken frequently due to their condition:
Children generally demand additional x-ray procedures compared to adults since their teeth and jaws are still emerging and since their teeth are smaller.
Adults that have extensive restorative treatment to check for the decay underneath existing fillings.
People who consume too much sugary drinks.
People who suffer from gum disease and dry mouth.
How Dental X-rays Work
By the time dental x-rays pass through the mouth, your teeth and bones are the ones who can absorb more ray than the gums and tissues; so teeth appear lighter on the final x-ray image (known as radiograph).
The sections with decay and infection will look darker since they don't captivate as much of the X-ray. Your dentist will apply the x-ray information to detect infections, abscesses, and other developmental abnormalities like impacted wisdom teeth.
The impression of fillings and crowns on an x-ray varies with the materials they are composed of. Others look dark and some appear light. Your dentist is capable of using x-rays to help recognise any parts that need attention or adjustment, regardless of the type of dental restoration or implant you have.
Top-notch Dental X-rays in Geelong
Get satisfying results and safer mode of treatment with dental x-rays from your trusted Geelong dentist. Here at All Smiles Dental, we don't just provide wide-ranging general and cosmetic procedures but we also perform high-quality dental x-rays through our high-quality machine. With our outstanding expertise and skills, we help you experience an admirable overall oral wellbeing.
Claim your Guaranteed Same Day Emergency Appointment online or call us on (03) 5229 5856. Contact us today for your FREE Consultation to see if Invisalign is suitable for you. Check out our website at www.invisalignvic.com.au.